Strike
Strike Missions are cooperative missions that can be done by 1-3 players. Upon selecting the Strike Mission, the game will attempt to find either an ongoing session with an available player slot where you can join or find other players within your level range to start the mission together. In case there's no other players who can join you, the game will start with you as the solo player. Don't worry though; random players can still join your session, as long as you have space in your party.
Strike Missions are supposed to be challenging, which requires the cooperation and teamwork of everyone in the Fireteam. (your group) You can play solo however, but it can be done only if you have better gear. The first few areas will be manageable alone; but the real problem starts when you have to face the boss. Depending on your team's composition, level, and gear, a Strike Mission can either be a rushed session or an hour-long ordeal. Nevertheless, having allies is invaluable when tackling these challenges and overcoming them.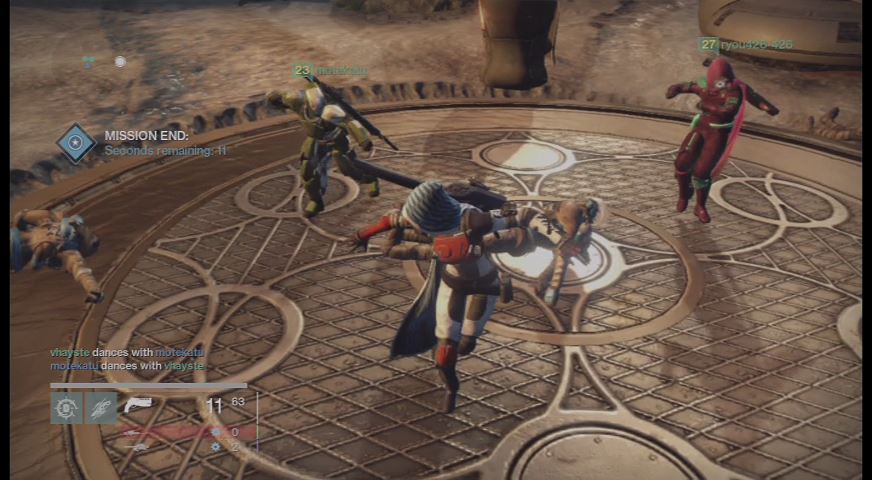 Completing 50 strikes will add Badges, Bonds, and Cloaks to the loot table. Vanguard Playlist strikes however, do not count toward this goal.
Strike Playlists
Also known as Vanguard Strikes, Strike Playlists allow players to play random Strike missions with elevated difficulty. Depending on the Playlist level, players will earn corresponding Vanguard Marks, Vanguard Reputation, and Vanguard gear.
| | | | |
| --- | --- | --- | --- |
| Playlist | Level | Vanguard Marks | Vanguard Reputation |
| Eagle | 18 | 0 | 10 |
| Viper | 20 | 2 | 12 |
| Wolf | 22 | 3 | 14 |
| Tiger | 24 | 6 | 25 |
Weekly Strikes
A Weekly Strike is a higher level strike and with mission modifiers. Weekly Strikes do not support matchmaking and are reset every Tuesday.
Heroic
This is unlocked once a Guardian reaches level 20. A Weekly Heroic Strike is level 22 strike with the Heroic mission modifier and at least one other modifier. Completing Weekly Strikes award players 3 strange coins per difficulty level. Completing them at higher difficulties will allow them to receive the same amount of Strange Coins as with the other difficulties combined.
Nightfall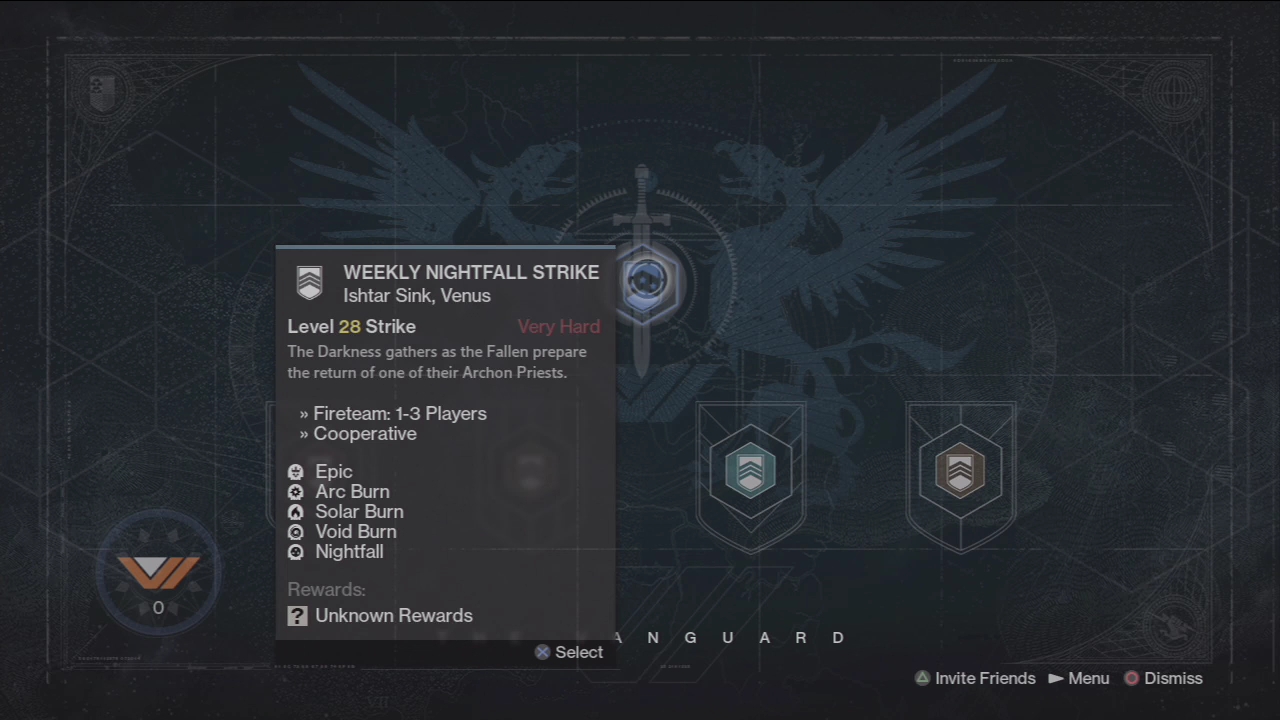 This is unlocked once a Guardian reaches level 24. This is the same as the Weekly Heroic Strike, but the recommended level is increased to level 28. This strike mission has many mission modifiers including Heroic and Nightfall. The possible rewards include Legendary or Exotic equipment, or several Ascendant Material. In addition, Guardians will receive the
Radiant Light
buff that increases all XP and reputation gains by 25% until the weekly reset.