Shattered Memory Fragment
Weapon Reward:
Pocket Infinity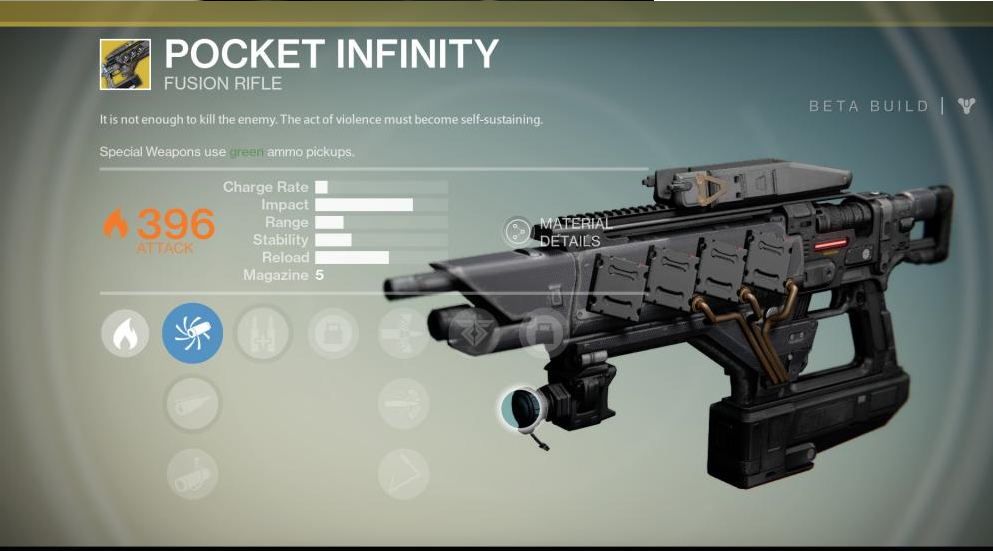 Steps
Obtain the Damaged Ghost from Venus' Shattered Coast. This is different from the usual Dead Ghosts that are counted as collectibles and towards your Grimoire score.


Defeat a Vex Gate Lord in the Eye of a Gate Lord story mission. It must have a heroic modifier. You'll obtain the Restored Ghost afterward.


Return to the Tower and talk to the Speaker. Hand over the Restored Ghost to obtain Fusion Rifle Schematics.


Deliver the schematics to the Gunsmith to obtain Depleted Exotic Weapon Core.


Dismantle 10 rare (blue) or higher quality Fusion Rifles to obtain Charged Exotic Weapon Core. The Gunsmith sometimes sells rare weapons. Check his inventory regularly to see if he sells rare Fusion Rifles. Otherwise, you have to do bounties and missions and hope that you'll get them as drops or loot.


Once you have the core, bring it to the Gunsmith to obtain Unstable Prototype Fusion Rifle Frame.


Rack up 200 enemy kills in Weekly Nightfall Strikes using any Fusion Rifle to obtain Stabilized Prototype.


Hand over the Prototype to the gunsmith to obtain Pocket Infinity.


Source: Destinypedia